Census 2011 forms sent to island homes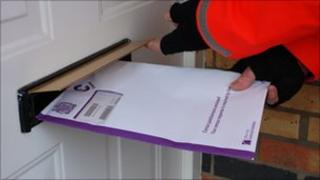 Islanders will be receiving Census forms over the next week as the 2011 Jersey Census gets underway.
People will be asked about their jobs, transport and ethnic background and must base all answers on who is in their household on Sunday 27 March.
The form is compulsory with a £1,000 fine for not completing it. The answers will be used to plan public services.
They will be handed out by about 150 officials who will all be carrying identity badges.
The Census 2011 is the first in 10 years - they were previously carried out every five years in Jersey.
The first information from the Census 2011 is expected to be released next year.
There were 29,000 people were living in Jersey when the first Census was carried out in 1821. That figure had increased to 87,000 people by the 2001 Census.
People are being reassured by the States of Jersey that they will not be fined if they are not in the island on Census Day.
The Census office has asked people to fill in the form before leaving the island, or as quickly as possible when they arrive back in the island after Census Day.
Census manager, Sarah Davis, said: "We fully accept that some people will be away on holiday or on business on Census day itself.
"We ask that people complete the questionnaire as soon as they return or contact our helpline on 01534 440111."
There are 26 questions in the 2011 Census form with six about the household and 20 for each individual member of the household.