Jersey Police investigate cause of three-car crash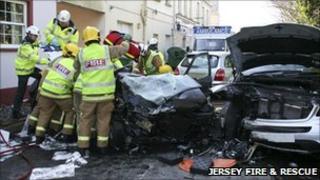 Jersey police are investigating whether seatbelts were being worn by the eight people injured in a multiple car accident on Sunday.
Two children, aged five and six, are among four people who were seriously hurt in the accident involving three cars near Trinity Stores.
They are in Southampton General Hospital, while the others are being treating in Jersey.
The police closed the road until 1900 GMT on Sunday evening.
Inspector Louis Beghin, from the States of Jersey police, said they were still trying to find out what happened.
He said: "We're investigating in relation to this one the possibility of whether people weren't wearing seatbelts.
"It is a timely reminder that you must wear your seatbelt."
Eight people were injured in the crash outside the post office in Trinity at about 1215 GMT on Sunday.
The Emergency Services declared it a major incident when they arrived soon after 1300 GMT.
Chief Ambulance Officer John Sutherland said: "We work very closely with our colleagues in the fire services and the police.
"Together we manage these scenes very very well and that is what happened yesterday, dealing with what was a very difficult situation."
There were six people in a black Peugeot 306 including three children, two people in a silver Mazda 323 and two in a silver Mercedes ML320.