Women 'celebrated' on new Jersey Post stamps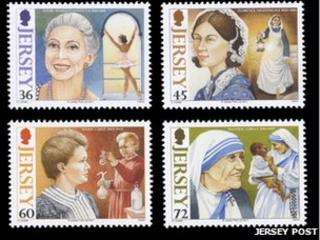 The latest stamps issued by Jersey Post celebrate Marie Curie and other iconic women.
The issue, Jersey - Women of Achievement II, was released on Tuesday.
The stamps are presented in a set of four and feature Marie Curie, Dame Margot Fonteyn, Florence Nightingale and Mother Teresa.
Jersey Post said it hoped the new stamps would "capture the extraordinary achievements of these women".
The philatelic design team worked with Marie Curie Cancer Care to incorporate their logo in the stamp issue.
Melanie Gouzinis, philatelic researcher at Jersey Post, said: "The stamps represent the outstanding hard work and accomplishments of these women.
"Being such a significant milestone in the remembrance of Marie Curie, it has been an honour to produce this stamp series," she said.
In 1911 Marie Curie was awarded the Nobel Prize for Chemistry in recognition to her work with radioactivity. Her most noted achievement was the discovery of radium which was for many years the main element in radiotherapy treatment.
The stamps are a tribute to Marie Curie and her achievements and will mark the 100th anniversary of her award.
The stamps also feature ballerina Dame Margot Fonteyn who continued to dance until the age of 60 despite having arthritis.
Prima ballerina
She was the star of the Royal Ballet company who was paired with Rudolph Nureyev and appeared twice as Prima Ballerina at Jersey's Opera House in 1974 and 1976.
The stamps also show nurse Florence Nightingale, known for her work in the military hospitals of the Crimea and who established nursing as a respectable profession for women.
She set up a school for the training of nurses at St Thomas's Hospital in London and in 1907 she became the first woman to receive the order of merit.
Mother Teresa, a Nobel Peace Prize winner who devoted her life to helping the sick and the poor, also features.
It was stamp artist's Colleen Corlett's 15th commission for Jersey Post, her previous commissions have included the Girl Guide centenary stamps last year.