Jersey politicians could get speech training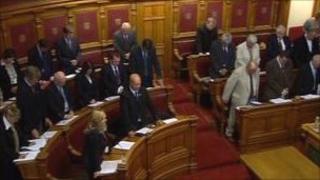 Jersey politicians could benefit from ongoing training on how to deliver speeches, according to St Brelade Deputy Montfort Tadier.
Deputy Tadier will ask politicians in the States of Jersey to think about whether training in public speaking is needed for members.
He said staff in other jobs were trained throughout their working lives.
A recent decision means speeches could be shortened but Deputy Tadier hopes they could be better as well.
Senator Paul Routier brought a successful proposition earlier this month that called for a limit on States member speeches.
Deputy Tadier said: "It seems to be fairly well recognised that some speeches sometimes go on for a bit too long.
"Ongoing training for States members in general was perhaps something that was lacking.
"This is a bit like a carrot I suppose, we had the stick, Senator Routier's proposition, this is just an added incentive."
He said it should not cost the States a lot of money and in the long term would make the official written record of States members shorter, thus saving money.