Jersey orchid created for National Trust anniversary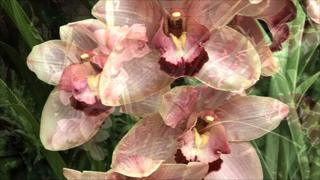 A new orchid has been grown and named in honour of the National Trust for Jersey's 75th anniversary.
The Eric Young Orchid Foundation has created a new plant called 'Miss Amy'.
The orchid is a cross between two other orchids, both parents originating from the foundation's renowned breeding programme.
The brightly-coloured flower is named after Miss Amy Filleul who was a major benefactor to the National Trust for Jersey in the late 1960s.
Chris Purver, curator of the Eric Young Orchid Foundation, said the name was a tribute to someone who helped put the National Trust on a firm footing.
He said: "We thought it was a very fitting tribute to name this very superb orchid after her, in her honour.
"It is something we rarely do, we have only named four orchids after people in the past but we thought this was something special."
Orchid collection
Creating the new orchid was not an easy process. It involved selecting the best parents.
Mr Purver said: "This cross was made back in 2006, so it has taken five years for us to get the first plants flowering and see the efforts of our work.
"When you create a cross you take the poorest ones out, illuminate the ones that aren't so good and so you have a very limited number left."
Eric Young started his orchid collection in the 1950s when he moved to Jersey. He was a very successful businessman and as his business grew so did his orchid collection.
Towards the end of his life he had a vision to create a centre of excellence so that, not only would his orchid collection be maintained and improved, but would also create a tourist attraction for the island.
Mike Stentiford, President of the National Trust for Jersey, said Miss Amy was a private woman.
He said: "She was born in Wales, her father made a fortune out of the coal industry and the family retired to Jersey.
"The father died and by 1968 Miss Amy was all alone having never married. She was a very private lady.
"In 1968, after her death, the National Trust were amazed to find they had been left this wonderful bequest of £230,000 which made a big difference to the National Trust."