Jersey Opera House gets £1m refit from public purse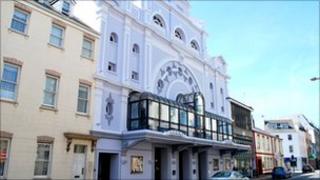 Just under £1 million of public money will be used to refurbish the Jersey Opera House.
The money is from the fiscal stimulus fund which was set up to support the economy through the downturn.
Senator Philip Ozouf, the Treasury Minister agreed to give £921,493 to pay for the work.
He said: "This will create jobs for the construction industry and increase the opportunities for corporate hospitality offered by the Jersey Opera House."
The fiscal stimulus fund has so far paid for road works on Victoria Avenue, skills training and towards the new visitors centre at the Durrell Wildlife Conservation Trust.
Pierre Horsfall, Jersey Opera House Board chair, said: "This money is being spent on a building owned and enjoyed by the people of Jersey."
The main Opera House building was refurbished nine years ago but there are administration areas that were not part of that refurbishing work.
Last year £112,000 was allocated for a new performance and rehearsal studio.
The work will take 10 months and will include the former restaurant on the top floor, the staff offices and the cafe bar. A large room which is currently unusable will be turned into a performance and rehearsal studio.
Deputy James Reed, Education Sport and Culture Minister, welcomed the decision.
He said: "The Jersey Opera House holds a special place in island life and I hope this refurbishing project will secure its long term future."