Pigs and criminals clear bracken in Noirmont, Jersey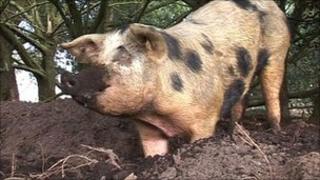 A farmer at Noirmont headland, in Jersey, believes he has found a solution to stop bracken taking over the countryside.
Alan Rabet said an experiment last year to make use of pigs, an animal with a natural ability for digging, has now proved a success.
He said: "The pigs uprooted the bracken and it has come back very light this year.
"The pigs are just cleaning up, the root of bracken goes to be a foot deep and the pigs like digging, so they are digging the roots out."
It is not just pigs helping clear the headland. Criminals serving community sentences are also providing the manpower.
Fantastic restoration
Andy Le Marrec, Community Service Supervisor in Jersey, said: "Currently they [criminals] are removing what's known as the litter layer of the heathland following the removal of bracken.
"We're working for the recovery of the grassland and in other areas for the restoration of the heather."
Bracken is a prolific and abundant type of coarse fern that spreads quickly, especially in headlands and grasslands
John Pinel, Principle Ecologist, Department of the Environment, said bracken was a problem for native species.
He said: "Bracken takes over very large areas of land, it is very expensive to manage.
"We have to get in tractors and the pigs do a very similar job, they are doing a fantastic restoration job to bring back the grassland here."
Critically dependent
Mr Pinel said Noirmont was an important piece of land for plants and wildlife.
He said: "Noirmont itself was heavily damaged by the German occupying forces in World War II when they were constructing bunkers and other military installations here.
"The heathland has been recovering since then.
"The work we are trying to achieve up here is to ensure conditions are right for the wide range of heathland plants and animals that are so critically dependent on the habitats."
The aim of the project is to restore the area to nature, removing bracken, litter and other things that harm the native plants and animals.