New bus route in Jersey connects the north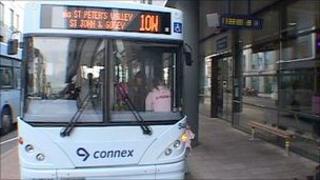 A new bus route connecting Jersey's northern parishes has started.
The new service will allow people to travel between the northern parishes without having to travel to town first.
The circular route will run seven days a week between St Peter, St Ouen, St Mary, St Lawrence, St John, Trinity and St Saviour.
There will be three westbound departures on route 26a and three eastbound departures on route 26b from Liberation Station.
As well as connecting parishes it will also connect a number of Jersey's tourist attractions.
People will be able to travel between the Jersey War Tunnels, Living Legend, aMaizin! Adventure Park and Durrell.
Mybus route 26a departures will leave Liberation Station at 1000, 1200 and 1400 while the 26b will depart from Liberation Station at 1045, 1245 and 1445.
Connex managing director Eric Le Roux, said: "Route 26 fulfils one of the objectives in Jersey's Sustainable Transport Policy of introducing an all year round island circular service with vehicles circulating both clockwise and anti-clockwise, enabling passengers to travel across the north of the island without travelling via St Helier."