First Jersey Royal Potatoes appear in the shops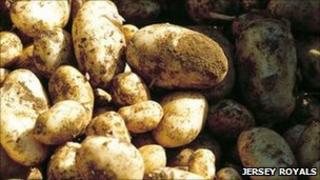 The first Jersey Royal potatoes of the season have started appearing in the island's shops and others are on their way around the world.
The Jersey Royal has been a part of islanders' spring diets for 130 years.
But this major agricultural product had something of an accidental beginning.
Francois Le Maistre, from the Jersey Royal Potato Association, said that it had all started from a single potato full of eyes.
"Hugh De La Haye had this round potato with 15 or 16 eyes; he and some of his friends cut the potato into pieces and planted them.
'In the flavour'
"One of the shoots came up and yielded kidney shaped rather than round potatoes.
"Because it was a fluke - one out of the 15 shoots - that's what he called it, a Jersey Royal Fluke," he said.
From that lucky beginning Jersey now has a major island industry that produces up to and over 40,000 tonnes of Royals every year.
Mr Le Maistre said: "Seventy or 80 years ago we exported 80,000 tonnes in one year, generally it has been between 40,000 and 50,000 tonnes each year.
"It's still an important industry."
The very early Royals are grown on a slope and Jersey Royals farmer, Didier Hellio, said this was so they could be picked earlier.
He said: "The very early ones are grown on a slope to get the earliness and they are hand planted and hand picked. It is very hard work but it is just to get the earliness.
"It's a labour of love and pride as well; you've got to be dedicated to do it."
In the early days of the Jersey Royal export farmers used vraic, or seaweed, as a fertiliser.
Mr le Maistre said that the use of vraic on Jersey Royal fields had started to die out 30 or 40 years ago.
But the use of vraic started to have a resurgence after the States of Jersey Agriculture and Fisheries Committee took action.
Mr Le Maistre said: "[Agriculture and Fisheries] promoted the use of seaweed by employing a contractor who would go down on to the beach with his tractors and fork and he'd load up the seaweed on to farmers' trailers.
"They would take it back to their fields."
But, although it is still used on a number of farms around the island, vraic is no longer used on a wide scale anymore.
Mr Hellio said that it did make a difference to the taste, but that it was not as cheap to use as people might think and was hard to get hold of.
"I do [use] some of them when it is possible, it does make a little bit of a difference but vraic and seaweed is very difficult to get hold of at the moment."
So what is it that makes Jersey Royals so special? For Jersey Potteries Chef Tony Dorris it is all in the flavour.
He said: "They've got a very unique flavour, to me they're very sweet, they're very unique and I haven't tasted anything else, I've been cooking for many years and I haven't tasted anything like it really."
Jersey Royals are part of a shortlist of British products with the European Protected Designation of Origin status.
That is the official recognition granted by the European Union to products from a specific area - such as Champagne or Melton Mowbray pork pies.