Proposal for Jersey to be able to register large ships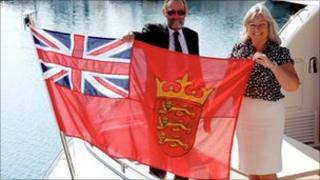 A proposal for Jersey to register large commercial ships will be discussed at a shipping conference being held.
The Red Ensign conference in May brings together the 13 Crown dependencies and overseas territories that can register vessels under the Red Ensign.
On the agenda for the island meeting is a law change which could allow large vessels to register in Jersey.
Piers Baker, the Registrar for shipping, said it could benefit the finance industry.
The law change would mean charter vessels, super yachts and support vessels for wind farms could register in Jersey.
Mr Baker said: "There are a number of companies that are linked to Jersey's finance industry who handle high net worth individuals' assets - which is an important part of Jersey's expertise.
"So by taking on more of those yachts we would increase the work for the finance industry and other related industries in the island."
'Defaced' flag
Ships that register in Jersey can fly the "defaced" flag, recently approved by HM The Queen and the States of Jersey, which features the three leopards and the Plantagenet Crown and reflects Jersey's strong links with the British Crown.
Government delegates from the Falkland islands, Bermuda and the British Virgin islands will be in Jersey for the event at the Hotel L'Horizon.
They will be joined by representatives from the UK Department of Transport, the Foreign & Commonwealth Office and the Ministry of Justice.
Also on the agenda is the risk of piracy on the high seas and the carriage of firearms aboard registered vessels.