Jersey Swimarathon raises 'record' amount of money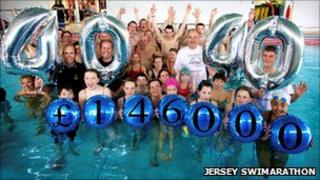 A "record" £146,000 was raised at the 2011 Jersey Swimarathon which ran from Wednesday 9 March to Sunday 13 March 2011 at Les Quennevais swimming pool.
Peter Tabb, who helps run the event, said: "It was the most ever raised."
The Jersey Swimarathon has been running for 40 years and the money raised this year will be split between 40 local charities.
He said about 500 teams took part this year and sponsorship money was still coming in.
"It was a wonderful achievement," Mr Tabb added.
"One of the factors is probably that we are supporting 40 local charities and a lot of people have said to me that was one reason why they were going to raise even more money this year.
"The success is that of the generosity of the people of Jersey."