States of Jersey vote for electoral commission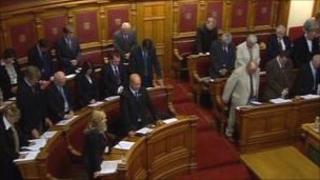 Jersey politicians have voted to set up an electoral commission to look at States reform.
Deputy Daniel Wimberley brought the proposition calling for the group to work out how to run the voting system.
This would include how the chief minister and assistant ministers are chosen.
The commission is expected to cost about £250,000 to run and its findings will be put to the island in a referendum.
The cost will need to be approved by the States of Jersey before the group can be formed.
An amendment by Senator Ben Shenton means the cost of the commission will need to be voted on as part of the 2012 budget.
The commission will then go away and look at all the options before their findings go back to the States of Jersey to be voted on before being put to the island in a referendum.
One of the options the commission will look at is whether it would be possible for the people of Jersey to vote for the chief minister.
The most senior politician is currently elected in a secret ballot by other States members.
Deputy Wimberley said he believed some islanders are not represented fairly, and that some changes need to be made.
He said: "Although we can improve matters such as the general election, we have inched towards a common term, we have created other issues.
"The bigger question is, is the system broke? Does it need fixing?"
Clothier panel
Constable Len Norman said that a review into reform had already been conducted by the Clothier panel in 2000.
He said: "I really do think that the job that the Deputy of St Mary is asking to be done has already been done.
"It has been done in a thorough, professional and positive way by the Clothier review panel.
"We've been debating reform for the whole of those 11 years and no one has come up with anything better than the Clothier panel came up with 11 years ago.
"Their report of 11 years ago is as valid today as it was then."
The proposition passed with 29 votes in favour to 18 against.