Jersey farmer says drug hunt police 'damaged crops'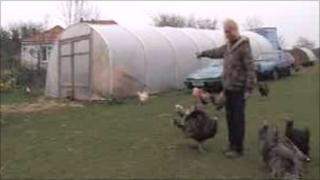 A farmer who lives in St Ouen in Jersey said some of his crops and a tractor were damaged by the police.
Richard Manning said he found a number of plain clothes officers in one of his fields on Wednesday morning.
They had dug some holes in one of his polytunnels, and he said some of his potatoes and a tractor were damaged.
A police spokesman said they had a warrant to search for drugs in that area but it seemed officers had strayed onto his land.
No drugs found
Mr Manning, who grows potatoes and strawberries in polytunnels, said he came across a group of about 15 people he found out were police.
He said he called police headquarters and asked someone to come and inspect the damage.
The police said he would need to come to the station to make a formal complaint.
Acting Det Ch Insp Steve Megaw from the States of Jersey Police said they did not find any drugs.
He said: "The owner of the property covered by the warrant was away and so officers were unable to confirm the exact areas it covered."