Voting in Jersey will change after reform vote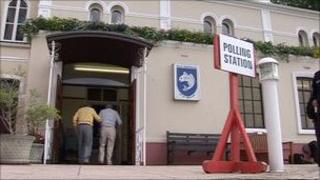 The way people vote in Jersey elections could change, after States members approved a series of amendments to the election law.
In future it will be easier to vote by post, or if away from the island, to vote in advance of polling day.
Changes could also see members of the Judicial Greffe go to people's homes to take their vote, if they register to do so in advance.
States members spent a second day debating the changes.
As part of the reform of the election law, politicians debated things such as how voters put their pieces of paper in the ballot box, what colour they should be and how it should be monitored.
Constable Julliette Gallichan said going to people's homes would simplify things for people who previously found the postal voting scheme too complicated.
However, it could mean the States of Jersey paying more money for staffing at election time.
Those changes were eventually approved by 42 votes to five.
Members also talked about ways to keep the ballot boxes secure - that went through with just one vote against.
And they extended the amount of time available to take legal action in the event of disputes at an election - at the moment it must be done within six months, that has been extended to 12 months.
They then voted on the whole bill, which was approved by 41 to four.