Injured man rescued from cave at Devil's Hole in Jersey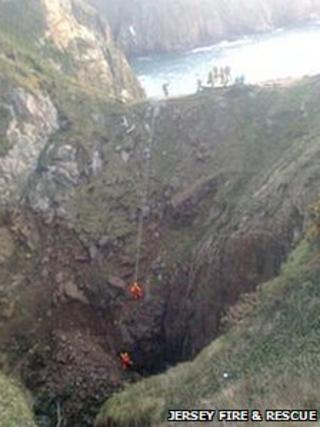 A man had to be rescued from a cave on Jersey's north coast when he injured his ankle.
He had climbed down the cliff to a cave at Devil's Hole, but was unable to get back up again.
The Jersey Fire and Rescue service and ambulance crews were sent to the scene late on Saturday afternoon to help him.
The Fire and Rescue service said it faced challenges from the dangerously steep cliff face, loose terrain and fading light and temperatures.
A firefighter wearing line rescue equipment was quickly lowered to secure the man before a second firefighter was lowered and helped bring him to safety.
The man was winched up in good time before the light faded into night.
He was examined by paramedics at Devil's Hole but did not need to go to hospital.