The Rotary Club of Jersey wants a new community centre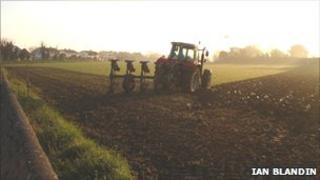 The Rotary Club of Jersey has revealed plans to build a community centre in the field opposite St Saviour's School.
It said its existing community centres were unfit for purpose and too small.
A new one would include a Good Companions Club for retired people, a nursery, a hydrotherapy pool and an exercise room.
However, some local residents have set up an internet campaign against the plans, saying it was vital to retain the green space.
The Rotary Club said it would help the charity expand its day care provision for older people and save the Health Department about £500,000 a year.
But Jersey politician Senator Jimmy Perchard said it was a bad idea for it to be built on the green field.
He said: "Most people can picture the road down there towards the granite arch, the magnificent oak trees, no it is not the right site, forget it, in fact I couldn't think of a worse site."
'Absolutely horrendous'
Local resident Ian Blandin is setting up an internet campaign to stop the field being built on and said lots of residents were very upset about the plans.
He said: "We just cannot believe that they want build on a green field, the only open space between Five Oaks and town, or even if you went all the way up to Maufant this is the only big beautiful piece of green land and it would be absolutely horrendous for somebody to build on it."
However, Rotarian John Reed said: "People are under the impression that the field is going to be covered in buildings, that is far from it, we are tucking our new building away in the corner of the field.
He said: "We are intending to keep a very large amount of the field as open parkland, walks, sensory gardens, all for the use of community."