Overdale therapy gardening area extended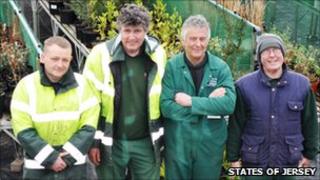 Paving slabs left over from resurfacing footpaths on Victoria Avenue have been used to help occupational therapy patients at the Westmount Centre at Overdale.
A gardening area with a glasshouse has been made more accessible for the patients so wheelchair users can use it safely.
David Cotillard, the foreman gardener, said he and his team were always looking for new ways to help people to practise different aspects of gardening.
He said: "When I heard there might be some paving slabs going spare at the end of the Victoria Avenue work, I put my scrounging hat on.
"The contracts manager from Trant Jersey, who were doing the work, was happy to pass on the leftover slabs as they would have been disposed of otherwise.
"We try to help the therapists find new ways to get people back into the workplace, even providing a change of environment can lift patients spirits' after a long period in hospital."
He said extending the usable area of the glasshouse would enable more people to take part in activities such as propagating, sowing seeds and potting on, under the supervision of therapists.
The Health Department said the clients at Overdale needed occupational therapy for many different reasons, from recovery from accidents or strokes to referrals from the pain clinic and wheelchair users.
Antony Ballantyne, Trant Jersey's Contract Manager said: "When David called to ask if there were any materials left I was happy to pass on the slabs we had not used.
"There were around 100 which would have otherwise have been crushed and recycled at the end of the job, so this was a much better use for them."
Deputy Anne Pryke, the Health and Social Services Minister, said: "Because of some quick thinking from a member of staff, we have used materials which would otherwise have been disposed of and we are providing more opportunities for the long term care of clients who need occupational therapy."