'Unprecedented' demand for Channel Islands lottery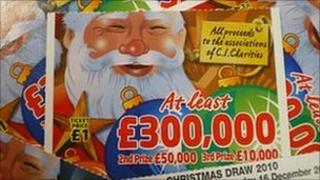 Demand for the 2010 Channel Islands lottery tickets was "unprecedented", a public lotteries report said.
The report said the tickets sold out a week before the draw in December 2010.
A total of 2.3 million were printed, 300,000 more than in 2009, when tickets were available up until the day before the draw.
The Economic Development Minister said Jersey sold all 1.42 million tickets it was issued, an increase of 14.5% on previous year.
Guernsey sold 880,000 tickets, an increase of 15.8% on its sales over the previous year.
The Channel Islands Lottery achieved a top prize of £750,000, which exceeded the £651,000 awarded the previous year.
The grant due to be paid to the Association of Jersey Charities for the year is £423,699, an increase of £117,908 on 2009.