Personal data stolen from online retailer Play.com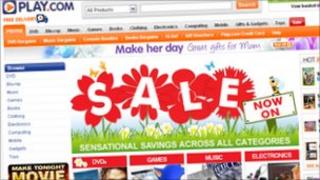 Details of customers registered with the Jersey-based online retailer Play.com have been stolen after a security breach.
The company has been contacting its customers by e-mail warning them about the breach.
The names and e-mail addresses were taken from a company that handles marketing for Play.com.
Play.com said it took security and privacy seriously and no other personal information had been taken.
'Stringent standards'
CEO of Play.com John Perkins said: "We would also like to reassure our customers that all other personal information (credit cards, addresses, passwords) are kept in the very secure Play.com environment.
"Play.com has one of the most stringent internal standards of e-commerce security in the industry.
"This is audited and tested several times a year by leading internet security companies to ensure this high level of security is maintained."
The business was set up in Jersey to sell CDs, DVDs and electronic goods.
It apologised and said it was taking every step to ensure a similar breach did not happen again.
Play.com said it never asked customers to give out bank details, passwords or card numbers and was giving out an e-mail address to which any suspicious e-mails can be forwarded.