Jersey government ask people to help shape policy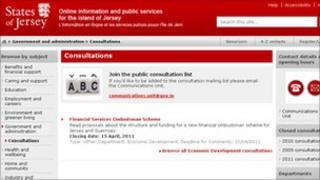 People in Jersey are being asked to sign up to a States of Jersey scheme to share their views on policy ideas.
Islanders signed up to the States public consultation register are given policy proposals and asked to help shape them before they are debated.
The government has said there will be a number of consultations launched in the coming months covering education, health and housing.
People on the register get emails about consultations and dates of meetings.
A number of Green and White Papers will be issued during the next couple of months.
These will include one looking at the future of education, another on the health service and a paper on ways to manage social housing.
Chief Minister Senator Terry Le Sueur said: "Departments will be issuing a number of major public consultations in the next few months and it is vital we get the views of all islanders.
"Consultations on issues like health, education and housing affect all our lives and those of subsequent generations.
"So it really is important that Islanders engage with policy development and contribute their thoughts so that informed decisions can be made."