Petition to stop Southampton heart unit closing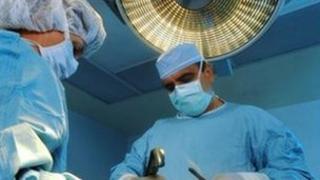 A mother from Jersey has launched a petition against the closure of the children's heart unit at Southampton Hospital.
Children from the Channel Islands use it for specialist heart treatment.
The NHS could close it under plans to improve treatment by providing fewer and more specialised services.
Mandi Corley's son has been going to the Southampton unit for the past six years and she is asking islanders to sign the "Have a Heart" petition.
Spread thinly
There are concerns expertise in children's heart surgery are being spread too thinly across the UK.
The NHS National Specialised Commissioning Group is carrying out a review.
A report by the group says a balance has to be struck between services that are close to home and services that provide enough specialist skills to provide the highest standards of care.
At the moment, four children's heart surgery centres have only one or two paediatric surgeons.
There are no plans to cut the overall number of surgeons, but it is likely some would have to move to different centres. Each would have a minimum of four surgeons.
The centres that stopped doing surgery could continue doing non-surgical treatments like diagnostics out-patient care.
Strong bond
But Ms Corley said they have built up such a strong bond with staff and surgeons at the Southampton unit she cannot imagine having to start afresh elsewhere.
She said: "I know there are other options such as Great Ormond Street, but when your child has had surgery, the thought of getting on a tube, on a train, just the travelling alone and meeting new people that you have never met before...
"Now with Southampton, we know the doctors, we know the cardiologists, they are like a second little family really," she said.
The Daily Echo newspaper set up the "Have a Heart" petition, and Ms Corley will be in St Helier on Wednesday asking islanders to sign it.
The petition already has more than 10,000 signatures.