Fishermen around Jersey warned not to keep small ormers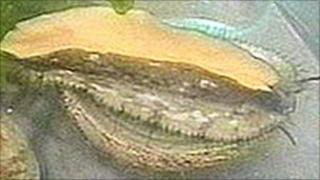 Fishermen around Jersey are being warned not to keep any small specimens they catch of a local shellfish.
An ormer can only be kept if it measures 9cm across the broadest part of its shell.
Fishery officers have stepped up their patrols of fishermen's catches.
During the first two big tides of the year in January and February, officers checked 110 catches and 25 had undersize ormers that had to be returned to their environment.
The rules are in place to ensure the local stocks of ormers remain in healthy numbers.
Over the past weekend there were exceptionally big tides and 140 fishermen's catches were checked both onshore in Jersey and at Les Minquiers.
This time only three undersize ormers were uncovered.
Constable Len Norman who has responsibility for Fisheries regulations said: "I am delighted that the presence and resolve of the Fishery Officers, both on the island and at Les Minquiers, is having a real impact on the safeguarding of our ormer stocks."