New CT scanner for Jersey heart patients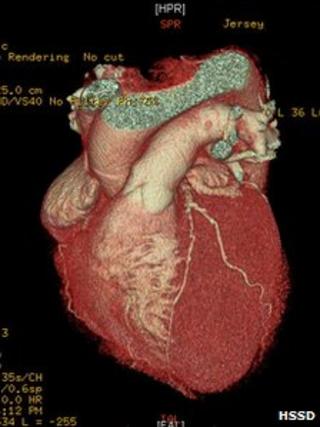 Jersey heart patients will no longer have to go to the UK for tests after a new CT scanner was fitted at the General Hospital.
Until now, patients had to go to the UK for a coronary angiogram, a more invasive procedure where tubes were inserted into their heart arteries.
The Health Department said the new scanner gives a 3D reconstruction of the heart arteries in a procedure that takes less than 15 minutes.
It said it will save money and lives.
Dr Andrew Mitchell, consultant cardiologist, said: "The image quality of the new scanner is amazing and for the first time allows us to look inside patients' heart arteries with incredible resolution."
A 63-year-old retired air-traffic controller, Jim Buckley was one of the first patients to use the new scanner after a routine medical with his GP found his heart trace was slightly abnormal.
The scan showed there was a tight blockage in the left heart artery and Mr Buckley was sent to Oxford for urgent balloon and stent treatment to the narrowed artery.
Dr Mitchell said: "Mr Buckley was a keen runner and it is entirely possible that without this test and treatment he would have suffered a fatal heart attack."
Dr Chris Hare, director of radiology, said: "Our new CT scanner is being used for patients with suspected coronary artery narrowing and will hopefully reduce the need for patients to travel off-island for more invasive and expensive tests."