Condor ferry crash captain 'off active duty'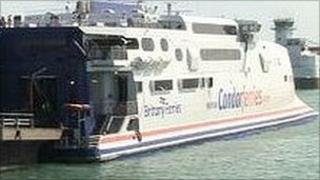 The captain of a Condor ferry involved in a collision with a fishing boat has been taken off active duty, but the firm said he had not been suspended.
Jersey Police and French authorities are investigating the crash, in which the French fisherman Phillippe Claude Lesaulnier died.
His whelk fishing boat, Les Marquises, collided with the Condor Vitesse on Monday near the Minquiers.
Two other crew members on Les Marquises were treated for shock.
The Vitesse has returned to the UK for repairs and Condor said it was not taking bookings for any of its sailings between now and Monday while it works out how its schedule has been affected.
Steve Bailey, Condor's Jersey Director, said: "After the investigations onboard Condor Vitesse were completed, and with the agreement of the French authorities, she set sail from St Helier bound for dry dock in Portsmouth where she will undergo repairs."
Jersey Police have been asked by the Deputy Viscount, the island's coroner, to investigate Mr Lesaulnier's death.