Jersey police want more security in new town park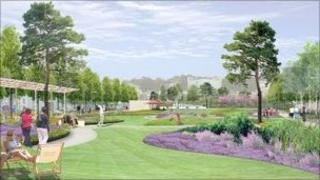 The States of Jersey Police have said there should be security cameras and a perimeter fence in the new town park to make it safer.
The police crime analysis "strongly recommended" a low fence around the park which could be shut at night.
They said that where the park is in St Helier, and how open the design is, raises safety concerns.
But Planning Minister, Senator Freddie Cohen, said railings will only be around two sides of the park.
Senator Cohen said the railings would be there to to stop children running into the road.
The police survey wanted railings that could be locked as a way of preventing anti-social behaviour.
The survey highlighted a number of vulnerable areas including the play area, kiosk and toilets.
It also found that the planned petanque area on the south east side could be a problem.