Jersey's 'secret potter' retires after 44 years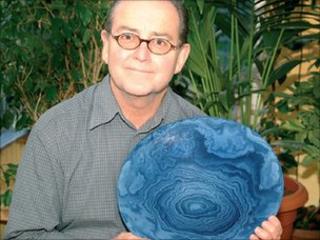 A potter who ran a tourist attraction in St Ouen in Jersey has retired after 44 years.
Tony Bouchet made agateware in his workshop in St Ouen's village.
Agateware, said to be extremely hard to make, is a form of pottery that mixes clays and colours to produce a marbled agate effect.
The workshop is now closed and Mr Bouchet has destroyed all his recipes, records, moulds, clay and special equipment.
He said that by doing so would give someone else the chance to discover what he knows for themselves.
His special technique is the reproduction of natural agate stone, achieved by marbling white clay with metal oxides.
It is a pottery skill that has fascinated and tested the skills of potters since the 1st Century AD in ancient China.
Mr Bouchet, who has been doing it for four decades, is known as the "secret potter" because he would not reveal the secret of the technique he had perfected.
Sir John Wedgwood came to Jersey to meet him and said after 300 years of trying, even the Wedgwood potters could not make it.
The Wedgwood family now collects Mr Bouchet's creations.
'Almost impossible'
Mr Bouchet said he had been fortunate that he was able to make a good living as a craft potter.
He first took up the challenge to become the first potter to successfully produce and perfect agateware pottery.
He said: "It is almost impossible to make. At every stage of development normally pottery practice had to be abandoned and new ways that could cope with the complexities of the pottery had to be developed."
Mr Bouchet has developed a number of new techniques in 44 years, some he describes as so advanced they had never been used before.
"Colours have been formulated and mixed - the mixing process alone required over 2,000 experiments."