Jersey fishermen collect cash for crash man's family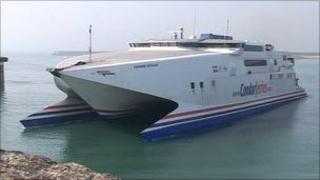 Fishermen in Jersey are collecting money for the family of the Frenchman who died after his fishing boat was hit by a Condor Ferry.
Father-of-four Philippe Claude Lesaulnier was fishing near the Minquiers when his boat was hit by the Condor Vitesse, on its way to Jersey.
The collection is being organised by the Jersey-based Fresh Fish Company.
Louis Jackson, from the company, said that the accident showed how dangerous working at sea could be.
Mr Jackson said: "For all of them [it must have been] an incredibly frightening ordeal to have such a large vessel bearing down on you.
"I think it must have happened so fast that it doesn't even bear thinking about.
"We thought it would be a nice gesture to put something in the pot for this chap's family, who are probably going to need every penny now."
Two separate investigations are being carried out into the incident that happened in thick fog while the Vitesse was travelling between St Malo in France and St Helier in Jersey.
Two other crew members on the same boat as Mr Lesaulnier were treated for shock at Jersey General Hospital.
The French maritime authorities are finding out what happened at sea, while Jersey police are investigating Mr Lesaulnier's death.
Condor Ferries has said that the Condor Vitesse is expected to re-enter service on Friday.