Parents from abroad offered English lessons in Jersey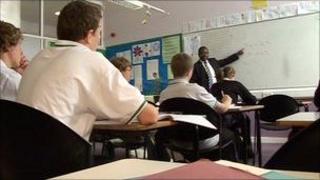 Parents who have moved to Jersey from abroad are being offered English lessons.
A number of pupils at Grainville school speak two or more languages.
Carla Pinheiro, a language assistant at Grainville, said often their parents do not turn up at open evenings because they have trouble communicating.
She said she has set up English lessons for parents because it can be upsetting for foreign students when their parents cannot speak much English.
Ms Pinhero said she believed there was a "big problem at the moment" with parents not being able to speak English because some did not attend parents' evenings.
"They do not have the confidence or the English to communicate with the teachers," she added.
Cultural bonds
Meanwhile the Portuguese government is helping young people in Jersey to keep their links with their heritage and language.
Teachers funded by the Portuguese government go to schools across the island to teach pupils with family ties with Portugal.
One teacher, Catia Verguete, said the aim is to strengthen cultural bonds.
"They are a part of what the Portuguese government believes to be a good way to help our children to maintain their connection and their bond to their culture and to their language," she said.