No Jersey public holiday for general election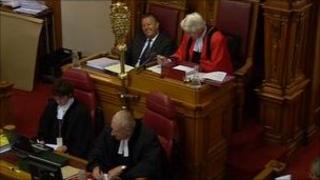 Jersey politicians voted against plans to have a bank holiday on the day of the election in October.
The States voted 44 against to just three votes in favour of making Wednesday 19 October a public holiday.
Deputy Geoff Southern wanted members to introduce a "Democracy Day" holiday to encourage people to go out and vote.
Senator Jimmy Perchard voted against the plans to introduce the holiday, he said Deputy Southern was offering a freebie for votes.
Senator Perchard said: "Deputy Southern with this proposition reminds me of the child catcher from Chitty Chitty Bang Bang.
"He offered ice creams and lolly pops, lemon pies and apple tarts, all free today.
"This proposition is offering an expensive freebie in exchange for votes."
Jersey will be holding its first general election on 19 October with Senators, Deputies and Constables elected on the same day.