Widow of ferry crash fisherman visits Jersey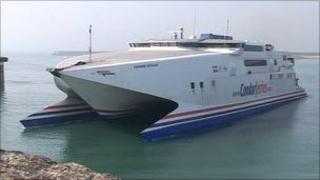 The widow of the French fisherman who died after a collision at sea with a Condor ferry has visited Jersey.
The wife of Philippe Claude Lesaulnier and other family members were brought to the island by a French lifeboat.
The family want to take Mr Lesaulnier's body back to France.
It is not known if they were be able to remove his body from the island as no date has been set for the inquest into his death.
The family had arranged to meet representatives of the Fisherman's Association, the Lifeboat Service, and local French organisations.
Mr Lesaulnier died after a collision between the Condor Vitesse and the French fishing boat on Monday morning near the Minquiers.
The two other fishermen on the boat were rescued from the water and treated for shock.
The crash is being investigated by Jersey Police and French authorities.
The Condor Vitesse is expected to return to service tomorrow.