Beaulieu Convent School fees rise by £100 a term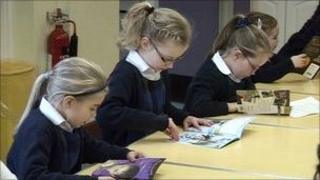 Parents with children at Beaulieu Convent School in Jersey will pay an extra £100 per term from September.
The Catholic school for girls aged 4-18 has written to parents explaining the 6% increase in fees.
The 700-pupil school said this was because of pressure from the States of Jersey which plans to cut the grant it gives to fee-paying schools.
A number of teachers, including the head of the primary school, are taking voluntary redundancy to save money.
Parents will have to pay £1,620 a term from September.
The States of Jersey Education Department announced the cuts earlier in the year as part of a wider range of savings to reduce the island's budget deficit.
The chairman of the school governors, Jurat Paul Nicolle, said the fee increase is lower than first thought following discussions with the education minister.
Jurat Nicolle said: "It looked as if at one stage we might have had to increase our fees by as much as 20% which would have been horrendous.
"[The minister] has listened to us, he has adjusted his approach but clearly we and others would be delighted if there was no reduction in States grant.
"Unfortunately, the way of the world is that governments are looking for reductions in their expenditure."