Jersey inquest hears fisherman died of a crush injury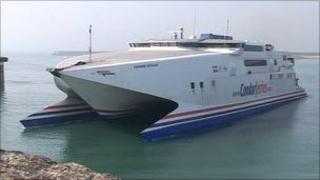 An inquest in Jersey has heard a French fisherman died from a crush injury after his boat collided with a passenger ferry.
Philippe Lesaulnier, a 42-year-old father of two, was fishing with two others near the Minquiers when their boat was hit by the Condor Vitesse.
The inquest was opened and adjourned to allow his body to be released to his family and taken back to France.
The inquest heard that Mr Lesaulnier's death was inevitable and quick.
Det Insp Chris Beechy, who is investigating the death, told the inquest there was nothing anyone could have done to save him.
Mr Lesaulnier's widow arrived on Thursday with the hope of taking his body home.
Don Thompson, president of the Jersey Fisherman's Association, has been with the family and said the crash on Monday had affected a lot of people.
He said: "It certainly sent shockwaves through the fishing community, there is no doubt about that.
"The repercussions go beyond the specific boat, there was the family involved. I think it will be felt for a long time."