Guernsey bidder names Durrell's otter pup Kevin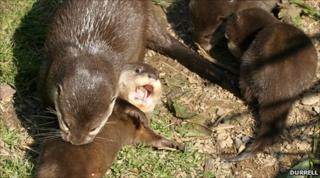 A mystery bidder from Guernsey has paid £520 to name an otter pup "Kevin".
Durrell Wildlife Conservation Trust launched an auction on eBay to name one of the four short-clawed otter pups that were born just before Christmas.
It was the first time otter pups had been born at the Durrell Wildlife Park in Jersey.
The pups were born to mother Bintang and father Bulan, who had been together for three years without previously having any offspring.
Jenna Hunt from the trust said: "We noticed Bintang looking quite rounded a couple of weeks before Christmas and this was a bit of a surprise as after three years of our otter pair being together with no offspring forthcoming we were starting to wonder if they were compatible."
"We saw the first pup on the TV screen we use to monitor the animals on Christmas Eve, and spotted the rest on Christmas Day."
Barely left nest
The keepers said they monitored the new family for the first few weeks using the camera, observing the parents' attentive behaviour.
They said Bulan barely left the nest box except to eat and then he would return with food for Bintang.
The staff waited until six weeks after the birth before investigating and said they were delighted to find three males and one female otter pup.
The recent Spring sunshine enticed the four pups out of their nest boxes and Durrell decided to launch an auction on eBay to name one of the male otters.
There were 26 bids and the winning bidder was from Guernsey but wanted to remain anonymous because it was a present for someone.
It followed a similar online auction last year where 41 people bid to name a pair of baby lemurs with a couple from Buckinghamshire paying £1,650 to name them Tigger and Piglet.
Durrell said visitors would hopefully be able to catch sight of the otter pups over the next few weeks as they would become more adventurous as their confidence improved.