Jersey charities to benefit from royal wedding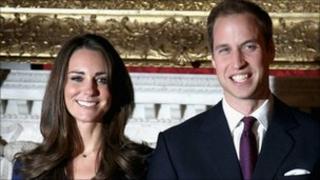 Three local charities will benefit from the Royal Wedding Jersey Charity Appeal.
Prince William and Kate Middleton asked for donations for their preferred charities instead of wedding gifts.
The Bailiff said instead of donating to the royal couple's chosen UK charities, it was approved for the money raised in the island to go to Jersey charities.
Holidays for Heroes Jersey, Brighter Futures and the Jersey Association of Carers will all benefit.
The Bailiff of Jersey, Michael Birt, said: "The appeal is directly borne out of the royal couple's wish to benefit charitable organisations which support military service organisations, young people in our community and the elderly."
The Council of Ministers started the appeal on Tuesday with a £6,000 donation on behalf of the States of Jersey.
Jersey will also be presenting Prince William and Kate Middleton with an engraved miniature silver replica Jersey bachin on their wedding day.
The original bachins are made of brass, are originally from Normandy and are used on farms in the Channel Islands as a container for making black butter and jam.
Mr Birt said: "Jersey has enjoyed a very close relationship with the British Monarchy for hundreds of years and it will be very uplifting to witness the special occasion of the marriage on 29 April."