More 'locally qualified' people are working in Jersey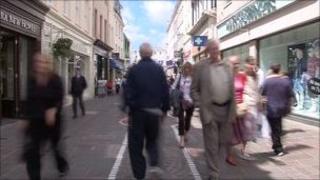 Last year saw the highest recorded number of "locally qualified" employees in Jersey.
Locally qualified means people who have housing qualifications or have lived in Jersey for the past five years.
The official labour market figures for December 2010 show a rise of 260 locally qualified staff working in the private sector compared with 2009.
In contrast, for the third year in a row, the number of non-qualified employees has dropped.
There were 320 fewer in December 2010 than in December 2009.
Official labour market figures for December 2010 also show a drop in the number of people working in Jersey's finance industry - by 750 over the past two years.
And there were 300 fewer people working in banks in December 2010 than in 2009.
The number of people employed in Jersey last year was down by more than 100 on 2009 and registered unemployment was up by 90 during the same time.
Senator Philip Ozouf, Deputy Chief Minister, said: "Despite the downturn, our employment figures remained stable, and at a high level.
"This shows that the economy is holding up well and although we are doing considerably better than other parts of the world, it is important that we continue to support economic growth and so continue to support individuals within the island."