Drought could affect Jersey crops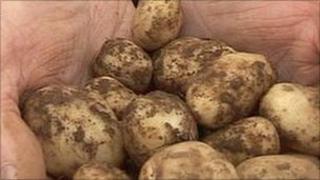 There are concerns that some crops could be affected by the dry weather in Jersey.
A drought is marked by more than a fortnight without rain and it has now been 17 days since Jersey last had any significant rainfall.
Jersey had a similar drought last year and many farmers invested in irrigation pumps to help the crops.
Jersey farmer Anne Perchard said the island needs a couple of rain showers to harvest crops.
"It is amazing what a week does with north-easterly winds drying winds, how the soil dries.
"It is not the potatoes that are ready to harvest now that are the problem, it is going to be the ones we harvest in a month.
"If we do not get any rain in the next couple of weeks the crop is going to be very light and again we may have the same problem as we had last year."
The company responsible for the island's reservoirs, Jersey Water, said the reservoirs were full but more dry weather could cause problems.
Howard Snowden, managing director of Jersey Water, has asked people in the island to use water wisely.
Potato grower, Tim Ward, said some farmers had used irrigation pumps in March this year and he does not think it has ever been used that early in the year before.