New household battery recycling banks in Jersey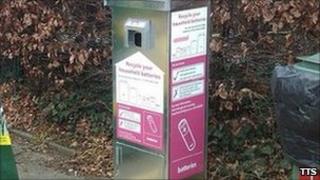 People in Jersey are being encouraged to recycle their batteries instead of just throwing them away.
Transport and Technical Services said islanders threw away more than 800,000 batteries each year, and last year only 125,000 were recycled.
So TTS has opened 19 new battery recycling banks around the island.
Emma Richardson, recycling manager at TTS, said: "Batteries contain metals and chemicals which are not fully destroyed by incineration."
She said about 21 batteries were used by every household each year.
The 19 new banks bring the total battery recycling banks to 27.
Also all States of Jersey non-fee paying primary schools have battery banks, provided by Hawksford International as part of scheme began in December last year.