Jersey hosts sand art competition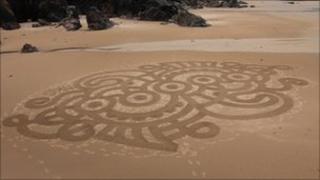 Jersey's Ouaisne Beach is set to be the venue for the island's first beach art event.
International artists are expected to join Jersey sand artist Andy Coutanche for the event on 29 and 30 October.
The competition will include classes for families culminating in the world artists' sessions and judging.
Mr Coutanche said: "Jersey is a beach artist's dream due to its huge tides. We have so many fantastic beaches and great weather."
He said: "I'm looking forward to seeing the other competitors' art work and I'm delighted that this is happening on my doorstep.
"I expect it to be a great success."
Alan Maclean, Economic Development Minister, said: "Jersey is excited to play host to such a prestigious event.
"Many people might not know that Jersey is the warmest place in the British Isles - we enjoy the highest temperatures and as a result our beaches are a key focal point of the island."