Royal wedding: Jersey celebrates the wedding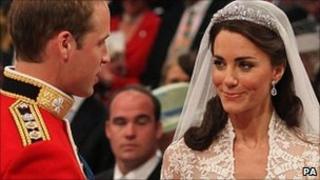 Jersey has been celebrating the wedding of Prince William and Catherine Middleton.
In the Liberty Wharf Archway, at Liberation Square, there was a large screen where people could watch the royal couple tie the knot.
The States of Jersey made 29 April a public holiday to give islanders time to watch the special occasion.
And States members voted to allow pubs in Jersey to open until 0100 BST, two hours later than the usual 2300 BST.
A number of events took place around the island including garden parties, live music and receptions.
Places to watch the wedding:
Reg's Garden in St Brelade had a big screen and garden party.
Ima's Caribbean coffee shop held a Street Party in Halkett Place.
People took headphones to Cafe JAC's in the Arts Centre for a free silent royal wedding celebration.
Grouville Church screened the ceremony.
People in St Lawrence got together to watch the royal wedding at the Parish Hall.
The Inn in St Helier had a wedding brunch with widescreen live coverage of the event and live music.
Longueville Manor showed live coverage on three 60in screens with champagne and lobster.
Pomme D'Or Hotel had a big screen showing the wedding followed by a regal afternoon tea.
The Royal Yacht had live coverage with a three-course wedding breakfast at Sirocco's Restaurant with money going to Victim Support.
The Somerville Hotel showed live TV coverage in the lounge, and champagne and food was served.
Other royal wedding events in Jersey:
St John Parish Church bell ringers rang quarter peal at 0900 BST to celebrate the royal wedding.
Parishioners in St Ouen had a community celebration for the royal wedding at 1500 BST.
Grand Jersey had special cocktails on the Terrace with DJs Philosophy of House, and dinner in Victoria's based on Prince Charles and Princess Diana's wedding meal.
L'Hermitage Care Home had an 8ft screen for their residents to watch the royal wedding on.
The Radisson Blu Waterfront Hotel hosted a champagne reception and afternoon tea from 1200 BST.
A number of Jersey acts hoted a Royal Rock Out at the Live Lounge at 1630 BST.