Australian lifeguards 'cannot afford' to work in Jersey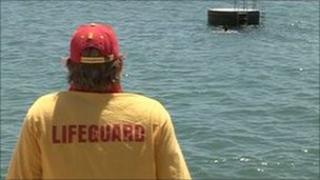 Many Australian lifeguards cannot afford to work in Jersey any more, according to a lifeguard who spent 10 summers in the island.
The Australian-trained lifeguards have watched over Jersey's beaches for the past 50 years.
From this summer the RNLI will run the lifeguard service, saving the States of Jersey about £100,000 per year.
But Gary Richards said most Australian lifeguards will not apply to work in Jersey under the new management.
He said "It is just not financially viable to go to Jersey any more, it is a shame but we have all had to look to work elsewhere.
"The wages elsewhere are a lot better than what is being offered in Jersey this season."
But the politician in charge, Senator Alan Maclean, said 12 lifeguards were coming over from Australia including four who had worked in Jersey before.
And he claimed the package offered to lifeguards was similar to what they had before.
"The hourly rate is slightly lower but in fact there are other parts of the package which make it overall quite attractive and certainly of a similar level to in the past."