Jersey couple share royal wedding day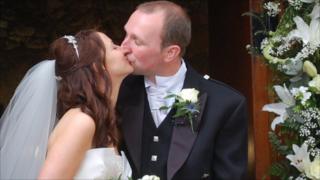 A Jersey couple have tied the knot in St Brelade on the same day as the royal couple.
Michelle Sweeney and Derek Stevenson were surrounded by family and friends at the parish church in St Brelade, Jersey.
They exchanged their vows in a service conducted by the Reverend Mark Bond.
Speaking before the ceremony, which began at 1200 BST, Mr Stevenson said he was more nervous when he was a best man.
Prince William and Miss Middleton were married at Westminster Abbey in London at 1100 BST.
The royal couple have taken on the titles of the Duke and Duchess of Cambridge.
Mrs Stevenson said she only had 30 minutes' sleep but did not think she was anywhere near as nervous as the duchess must have been.
She said: "I am feeling more relaxed than I was, I was really nervous and emotional.
"Having seen Kate, she is absolutely beautiful, she must be going through far more nerves than any bride today or ever."
Mr and Mrs Stevenson started planning their 29 April wedding before William and Kate announced they were to marry on the same day.
But Mrs Stevenson felt it did not detract from her occasion.
"It really added to the excitement, it hit home how important a wedding is, not just for a royal but for any couple.
"I'm delighted it fell on the same day, it is really beautiful, it adds to it, it has hit home that I'm going to marry Derek, I love him to pieces."
Mrs Stevenson said she had had very little sleep because of the worries of the day ahead.
"It is all the feelings of others, making sure everybody is OK, making sure you look OK, your make-up is OK and all the emotions making sure you love someone.
"I'm so delighted and proud to become part of the Stevenson family, it is great to have that addition and become part of their family."