Two men rescued in Jersey reef stranding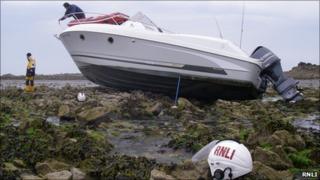 Two French fishermen were rescued after their boat became stranded on rocks off Jersey.
A crew from St Catherine's lifeboat in Jersey was launched at about midday on Sunday to help the men who had called for help from the Ecrehous reef.
The boat was undamaged so the crews waited for the tide to turn at about 1600 BST and the RNLI crew escorted the boat off the rocks.
The crew of the fishing boat returned to their home port of Carteret.