Cover for green waste site at La Collette is 'unlikely'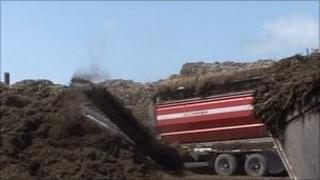 It is unlikely a cover will be built for the green waste site at La Collette in Jersey, according to the transport and technical services minister.
Deputies claimed people living in the Havre des Pas area had complained about the smell of the decomposing waste.
But Constable Mike Jackson said it had improved over the past couple of years.
He said the odour is at its worst when the compost is being turned, so that is now only done when the wind blows out to sea.
He said the funding to build a cover over the site would be returned to the Treasury Department.
He said: "It is felt that the covered building would not actually achieve what is attended and will not cause any improvement.
"The present processes have mitigated those odours to a very large extent."