Jersey fire service expects furze fires after dry spell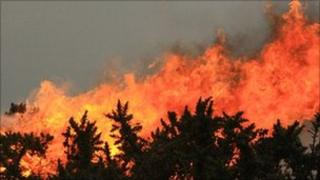 Fire fighters are expecting large furze fires in Jersey as the ongoing dry spell continues.
The Jersey Fire Service is asking the public to be vigilant and help prevent them spreading.
Without a major fire for a number of years, and the driest April on record, it is expecting a difficult few weeks.
Clive Russel from the Jersey Fire Service said the conditions in Jersey mirror other places experiencing major wild fires.
Mr Russel said: "You can see the sort of problems in Australia, Northern Ireland, Lancashire.
"For ourselves the big problem is making sure people treat the fire with the seriousness it deserves."