Exam results for Jersey schools could be made public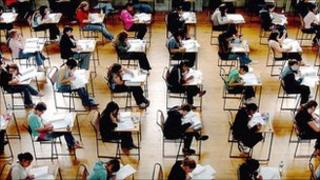 The exam results from each school in Jersey should be made public, a panel has argued.
A scrutiny panel of politicians, who monitor government decisions, reviewed the policy for publishing exam results.
John Mills, a former senior civil servant in Jersey, campaigned for the results to be published.
He was concerned performances of Jersey's four 11-16 schools compared unfavourably with the performance of schools in the UK.
The Education Minister Deputy James Reed argued that Jersey's schools could not reasonably be compared with their UK counterparts.
He said focussing on exam results put undue and unfair pressure on the schools.
The panel said the minister had noble intentions to protect the island's schools but his policy of not publishing the results was at odds with the age of information and accountability.
Deputy Roy Le Herissier, who chairs the panel, said exam statistics were a key part of measuring the success of a school and it was important to make them public.
The Education Minister was unavailable for comment.