Funeral of former States of Jersey Deputy Mike Wavell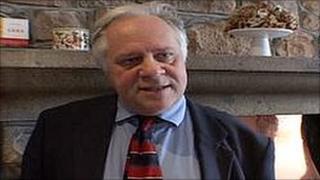 The family and friends of the late Jersey charity campaigner Mike Wavell will be gathering for his funeral on Thursday afternoon.
It will also be a service to celebrate his life.
Mr Wavell served as a Deputy in the States for 18 years - first for St Helier and later St Saviour.
He was the president of the former Defence Committee, and was known for his work promoting links between Jersey and Madeira.
After the Boxing Day tsunami in Asia in 2004, he set up Jersey's Side by Side charity to help people in disaster areas around the world.
He also founded the Jersey Academy of Music and converted a former Methodist Chapel in Aquila Road into a community centre.
Mr Wavell leaves a wife Rosemary and a daughter, Evangeline.
There will be a funeral service at St Thomas's Church on Thursday afternoon.
Meanwhile on Tuesday in the States sitting, the Bailiff Michael Birt paid tribute to Mr Wavell and former Deputy Helen Baker who also died during the Easter break.
States members held a minute's silence in memory of the two former politicians.
Helen Baker served two terms as Deputy of St Martin from 1978 before retiring in December 1984.
Mr Birt said she would be particularly remembered for her forceful opposition to the flooding of Queen's Valley.