Jersey Minister's Twitter comments 'were foolish'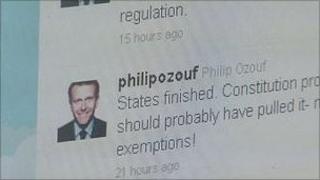 Jersey's treasury minister has admitted making personal comments online about his colleagues was a mistake.
Senator Philip Ozouf was the first Jersey politician to regularly post comments on Twitter during States debates, mainly commenting on policy.
He said it had been "foolish" to criticise two members by name, Deputy Bob Hill and Deputy Montfort Tadier.
Deputy Hill said his comments had been "pathetic and not becoming of a minister".
Senator Ozouf had said Deputy Hill had been "casting unfair aspersions on senior official. He needs to move on to something that will achieve some good".
'Rough and tumble'
The minister had also criticised Deput Tadier over his comments during the freedom of information debate.
He posted: "Deputy Montfort Tadier again criticises the Royal Court in Freedom Info debate. He does not even understand Jurats are judges of facts."
Senator Ozouf said afterwards: "With hindsight the comments were foolish."
"I am certainly learning the ways to appropriately use this."
He said using social media, such as Twitter or Facebook, was an important new way for the government to engage with voters.
'Inaccurate comments'
He said: "I am now putting information out that maybe I otherwise would not do, in terms of decisions I am making, what I am up to and giving people the opportunity to feedback on that."
But he said he would welcome rules governing politicians conduct online.
Deputy Tadier told BBC News that the minister's comments on Twitter were just the "rough and tumble" of politics.
He said: "My concern is his comments are inaccurate, what I said was more nuanced.
"I said there was an issue when the royal court are making judgements on releasing information on things they are involved in.
"Some information on the FOI law might relate to the Bailiff and Attorney General, I was simply highlighting that problem - why he mentioned Jurats I have no idea."
Constable Juliette Gallichan, the Chairman of the Privileges and Procedures committee, said: "There are no rules prohibiting Twitter, and in fact most parliaments have twittering from various meetings... so we are looking at these things to see where we want to go as an Assembly."