Jersey Air Training Corp cadets experience flight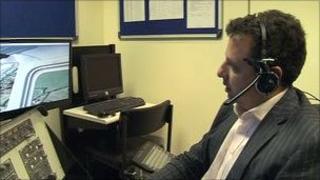 Jersey's Air Training Corps hope new equipment will give cadets in Jersey the chance to feel what it is like to fly an aircraft.
The Air Training Corps has installed an Aerospace Centre where the cadets can learn aviation skills, including flying and air traffic control skills.
Flight Lieutenant Leighton Jenkins from the Air Training Corp said it was a sophisticated and tough piece of kit.
The new equipment was funded by charity donations.
Flight Lieutenant Jenkins said: "The simulator itself is amazing, it has three screens on it and you have a panoramic view as if you were in a cockpit.
"It has an ability to track your head, as you turn your head so the scene you view changes.
"If you look left as if you were looking out the left-hand side of the aircraft you will see down the left wing of the aircraft."
The Air Training Corps is holding an open day for boys and girls aged between 13 and 16 on Sunday 13 May.