Jersey house struck by lightning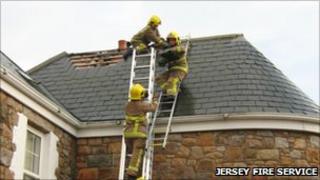 Fire crews in Jersey have been called out to a house after it was struck by lightning.
The lightning strike started a fire in the roof of the property in St Ouen at about 1800 BST on Friday.
The owners managed to stop the fire spreading by using a garden hose. Nine firefighters then extinguished it completely.
The roof was made safe and the property only suffered minor damage, the fire service said.
The service praised the actions of the house's owners in stopping the fire from spreading.