Roadshow on for Jersey Ambulance Service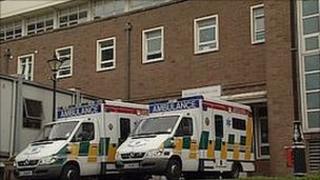 Jersey's Ambulance Service is touring the island to show the elderly and their families the support that is available to them.
The roadshow starts in St Martin's Public Hall at 1100 BST and is open until 1500 BST.
St John Ambulance, Home Care and Community Alarms will be among the groups at the event.
They hope to gain some feedback on their services, as well as raise awareness of what support is available.
There will also be free blood pressure checks, information about volunteering opportunities and a pharmacist available to answer any questions.
Paramedic Kate Cadigan said: "As this is the first event of what will hopefully be a long term project, we are very keen for feedback on what parishioners feel has been useful and what else people would like to see included in the future."
Health Minister Deputy Anne Pryke said: "I am well aware of the extraordinary work that charities and organisations, apart from Health and Social Services, do for islanders, and the kind of support they offer to people who need their services and their families."